Bespoke Bedroom Furniture
Oak & Pine Wardrobes for Nottingham
You spend over 40% of your time in your bedroom so why would you not want bespoke bedroom furniture that makes that time relaxing and efficient. Whether its a solid oak bed with luxurious headboard and under bed storage, or floor to ceiling pine wardrobes we can make them with soft lines and precise beauty. We can make free standing wardrobes with ornate details made of the finest pine and oak available. If you have size requirements we can match these as every piece of pine furniture and oak furniture is bespoke and made to order all with FREE delivery to Nottingham.
If you have size requirements we can match these as every piece of pine furniture and oak furniture is bespoke and made to order. Do you dream about a spinning tie wrack or a pull out shelf specifically made for your shoes to be matched in pairs instead of thrown at the bottom of the wardrobe getting ruined? Well dream no more, as we can fulfil all of your requests with ease. Work with one of our talented carpenters to design something that will really work for you. Sectionalised oak or pine wardrobes with purposes in mind will really make the most of the room you have available and once your finished, you just have to close the door and it is all neatly hidden away.
The Pine Workshop in Nottingham have a fantastic range of bespoke bedroom furniture including Oak furniture and Pine furniture. Find out more here!
With over 30 years experience in wood work we will make sure every aspect of your bespoke bedroom furniture will be made to the highest standard with beautiful details and quality workmanship. Each piece will match with exact precision. We can source antique drawer handles and age painted pieces to easily transform your bedroom to a French looking boudoir. We can make you a beautiful dressing table with a matching mirror that you will be proud to sit at each morning. Which ever wood you choose, oak or pine, you can expect exactly the same quality across the board.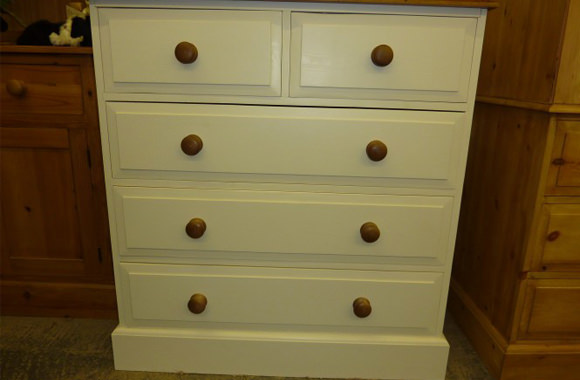 Here at The Pine workshop in Nottingham we use the best techniques possible to make our work as efficient as we can. We want to make the process from design to installation run as smooth and quick as possible so you can have your bespoke fitted bedroom asap. We would love to meet you and discuss your design ideas for your perfect pine wardrobe or any bedroom furniture you can think of. Call down to our purpose built showroom here in Nottingham and have a look around to see if your can be inspired by our extensive ranges of beautifully hand crafted furniture including our oak wardrobes and pine wardrobes or check out our gallery.
Call in and see us in Nottingham today and have a look around, feel the solid wood used to make the furniture and really understand the quality. Having been around for over 30 years we really understand the techniques to craft beautiful furniture that will last for years and add time-honoured splendour to any room in your house. All of our pine furniture in handmade made here in our Nottingham workshop using only the best quality pine and materials.
We pride ourselves in delivering only the best bespoke bedroom furniture made form oak and pine in all of Nottingham, we refuse to settle for second best and do not believe in mass produced flat pack furniture. Our work is a labour of love and lots of hours of intense labour goes into every aspect of your bespoke bedroom. We really are proud of our work, and hope you will be to. Please remember we also deliver our bespoke bedroom furniture to Leicester.