Bespoke Oak & Pine Kitchens
High Quality Kitchen Cabinets in Nottingham
We at Pine workshop Nottingham would love to make your bespoke pine kitchen. Let us come to your home and get a feel for the space you have available. With all the kitchen cabinets made to the highest quality you can rest assured that you will be getting the best kitchen possible made from wood. We will give you a fully itemised quote that is completely transparent so you can see exactly where you are spending your hard earned money.
All components of our bespoke kitchens are genuinely handmade here in our Nottingham workshop by one of our master carpenters who have over 30 years experience between them. Our tailor made kitchens are available in oak, pine, reclaimed pine and painted pine. Every kitchen we make is designed around your home, with you and you families needs at the fore front of our minds. We will use your space to its full potential, really maximising every inch, making your kitchen work for you. All of this is achieved from our kitchen cabinet design as we maximise space wherever possible. Our range of oak kitchens and pine kitchens are second to none in both quality and inspiration getting the perfect bespoke kitchen for your home.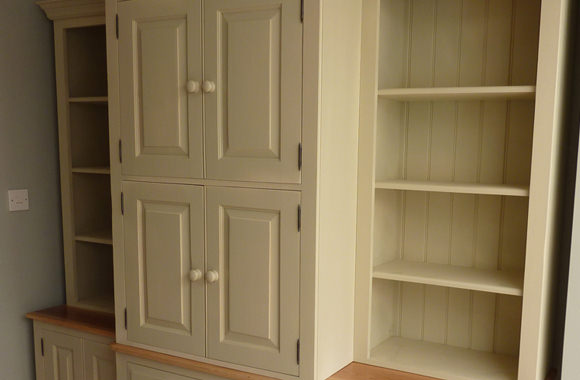 A kitchen is the heart of any home and should be warm and inviting, nothing produces this feel better than a bespoke kitchen made in the best quality oak or pine. Pine with its light knotty feel will create you a sophisticated airy space. Where as oak with it's darker honey colour can warm and really create atmosphere in your kitchen here in Nottingham. We provide a full service from design to installation, helping you choose the best tap, traditional sinks and worktops that will match your pine wood kitchen cabinets perfectly.
We can make you a distressed looking 4-tier dresser for antiques crockery if this is your style, or something with a dark stain to look like its come straight from the orient. Come to us with your ideas for your bespoke kitchen and our designers will work with you to create your dream kitchen, pulling out small details that will really personalise it and make you love it for years to come. Why not visit our gallery to see some fantastic examples of the previous work we have completed including some of our bespoke oak and pine kitchens for customers not only in Nottingham but throughout the Midlands.
Pine or oak kitchens are hard wearing and long lasting, and if you decide in 5 years time you want to change the look of your kitchen we can come and sand the wood back and re varnish in a different colour. All of our kitchen cabinets are designed so the wood can breathe, using traditional dovetail joints. Therefore any movement in the solid timber will not compromise the the quality of your kitchen cabinets. This means you will see no bulging or cracks. Also we treat all of our wood kitchens with a waterproof coating so you can clean your kitchen without worrying about damaging your bespoke cabinets and worktops.
If it is just a solid oak worktop you are after this is fantastic, we can hand select the timber lengths with you so you can pick out certain details and knots in the wood that you like. One of our craftsmen will then make your worktops using the hand picked wood. Come and see us at our Nottingham show room or call to book one of our specialist to come to house and give you a quote today. Also remember we offer this personal service of bespoke kitchens throughout Leicester. For our customers in Nottingham looking for anything from kitchen cabinets through to complete bespoke kitchens we offer a free design and delivery service. Give us a call today to see how we can help.