Bespoke Oak & Pine Kitchens
High Quality Kitchen Cabinets in Leicester
Here at The Pine Workshop on the outskirts of Leicester we would love nothing more than to design and make your bespoke pine kitchen. Give us a call to arrange for us to come to your home and really get a feel for the space you have. All of our kitchen cabinets are made with the highest quality in mind, so you can rest assured that you will be getting the best bespoke kitchen possible made from the best wood possible. We will provide you with a fully itemised quote that is completely transparent so you can be completely aware of where you are spending your hard earned money.
Every component of our bespoke kitchens are 100% handmade here in our Leicester workshop by one of our master craftsmen who have over 30 years experience combined. Our tailor made kitchens are available in pine, painted pine, reclaimed pine, and oak. Each and every kitchen we make is completely custom made for your home, with your families exact requirements at the forefronts of our minds. We want to use every inch of your space to its full potential, making your kitchen really work for you.
We believe the kitchen is the heart in every home and should give an inviting feel of warmth and comfort. Nothing will produce this feeling quite like a bespoke kitchen make from either pine or oak. Pine has a light and knotty colour and a smooth texture which will leave you with a light and airy space. Oak is slightly darker in colour with a honey like tone, which is ideal for creating a warm atmosphere for your kitchen in Leicester. Bespoke kitchens truly are a thing of beauty when they are crafted from eith oak or pine as our kitchen cabinets are hand made according to your space and specification.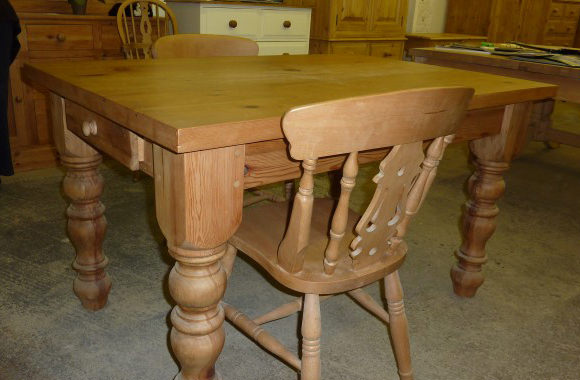 We provide an extensive service from the initial design stage right through to installation. We will help you choose the best taps, traditional sinks and worktops that will match your pine wood kitchen cabinets fantastically. Whether you want a dark stained pine giving a feel of the orient or a distressed 3- tier dresser fit for your antique crockery we can handle this.
Every one of our kitchen cabinets are made in a way that lets the wood breathe, using a traditional dovetail joint that has been used for hundreds of years in the carpentry industry. This means any movement in the solid timber will not compromise the quality of your kitchen cabinets. You will see no bulging or cracks appearing like you would in cheaper mass made furniture. We also waterproof all of our cabinets with a special coating which allows you to clean your bespoke kitchen with the reassurance that you will be causing no damage to your kitchen cabinets and worktops.
We can also create the perfect solid oak worktops to compliment your existing kitchen perfectly. We will sit with you in our work shop and help you hand pick the timber lengths to make you worktop from, this is so you can pick out any knots or details in the wood which catch your eye. Call in and see us in our showroom on the outskirts of Leicester for some advice and to book us to come out and give a quote. All of our kitchen cabinets come with free install and delivery to homes around the Leicester area meaning we will not only design and build your bespoke kitchen but install your kitchen to make sure our attention to detail is given justice and of course there is no hard work involved for you.