Solid Wood Furniture
Pine Tables & Pine Furniture throughout Leicester
Here at Pine Furniture workshop in Leicester we know everything there is to know about Pine. We stock the highest grade pine timbers we can find. Having years worth of knowledge that make our master craftsmen some of the most skilled in Leicester we are more than confident you will love the piece of solid wood furniture we make for you and you family for years to come.
If its a pine table you want then look no further. We have a showroom full of examples of beautiful pieces of wood furniture to inspire you. If you have specific ideas in mind our designers can work with you to create your perfect pine table right here in Leicester. A pine table will become the heart of your kitchen, not only to eat at but as an office, craft room or bakers, What ever you need your pine table to be we can create you something completely bespoke to you.
We have a workshop that you can come along to a pick your own timbers that we will use in your wood furniture. Imagine you choose lengths of wood for specific details such as stunning natural knots and buttery caramel colours. Then having these details as centre pieces in you pine table, really creating something of stunning quality and natural beauty.
Pine is one of the most popular woods to be used for bespoke furniture around the home, this is down to a few reasons, the first is the brilliant versatility of pine, it can be used to create a rustic country style kitchen, or it can be stained to make something very unique and contemporary. Another benefit is the fact that is doesn't need any stain or coating to make it look beautiful. It is also very kind to the environment as it does not use the harsh preservatives that pressure treated woods have.
We love working with pine as it is a sort wood and is easy to carve, we can add very fine details that add luxury to any piece of pine furniture, as well as being able to make your pine table match other pieces of wood furniture around your home. Why not paint or stain your solid wood furniture to give it a completely different look, then in 5 years time have it sanded back and stain it a different colour. Instantly giving your kitchen or dining room a lift. We can make a table that sits 2 or a table that sits 22. what ever your budget is we can work to it.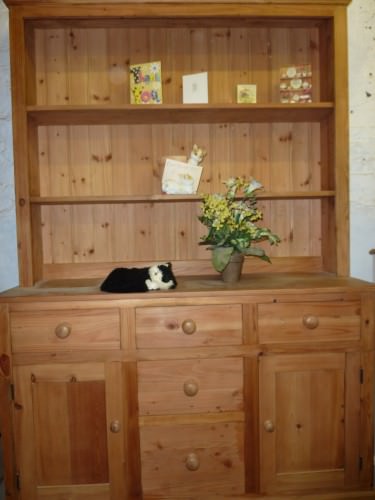 At the pine workshop in Leicester we know how important luxury wood products are and the high level of quality our customers expect from us. This is why we put 110% in to every piece of wood furniture we make in Leicester. We have a fantastic reputation and lots of repeat customers, we believe this is down to out hand on approach and client involvement from start to finish. Why not give us a call today or call in to out workshop/showroom and see what we can do for you.